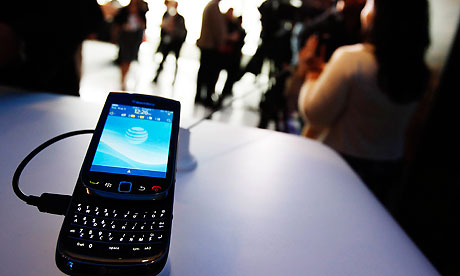 After months of rumors and speculations and even a launch announcement that Apple would be proud of; yesterday RIM and AT&T unleashed the next chapter in the BlackBerry legacy, the BlackBerry 9800 smartphone.  RIM and AT&T planned the launch of this new BlackBerry 6 OS device perfectly by making sure there were plenty 9800s to go around.  The BlackBerry 9800 will run you $199.99 on a 2 Year agreement.
In an interesting twist, one day after the BlackBerry 9800 hits the street, Â RIM releases the first BlackBerry 6 OS update for the 9800 v6.0.0.278.
So if you have just purchased the BlackBerry 9800, be sure to install the listed version of BlackBerry Desktop Manager 6 on your computer by clicking here. Then plug in your new device and it should tell you that there is an OS update available for you. If that doesn't work and you want to update the OS without using BlackBerry Desktop Manger, read our post: How to update your BlackBerry OS (Software) without using BlackBerry Desktop Manager..
Now, if you're in the market for a new BlackBerry that can support BlackBerry 6 OS, and you are not in the mood for paying $199.99 for a smartphone, then you might want to consider the BlackBerry 9700 which is fully upgradeable to BlackBerry 6 once the OS becomes available for this device. Currently the 9700 is on sale in the BlackBerryDreamBlog BlackBerry Superstore. Just go to http://BlackBerryDreamBlog.com/BlackBerry to find the best prices on the web for a new BlackBerry.
Click here to Download  OS 6.0.0.141 For The BlackBerry Torch 9800 to your computer
If you like this post, please consider hitting the "like" button. Also if you want to stay in the know? Follow us on Facebook and Twitter for the latest BlackBerry updates.
Source: CB
Related posts: